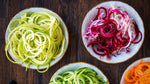 This simple recipe comes to us from Jolianne's mom! Spiralizing is a great way to enjoy your favourite Farm Fresh vegetables in a whole new way. 
Spiralized Beet & Zucchini Salad
2 beets, cooked or raw, spiralized
2 large zucchini, spiralized
1 bunch of cilantro
1-2 bunch of green onion
Arugula
Dressing:
Olive oil
lemon juice
salt and pepper
    -
Spiralize the vegetables, add them to a bowl with the cilantro and green onion, toss with the dressing, and add it on top of arugula. That's it!

If you use red beets the colour will spread to the zucchini and everything will be red. As an alternative, try using some of the other beet varieties we grow - chioggia (pink & white candy cane striped), or golden.
Jolianne suggests chilling this salad before eating, it helps to bring all of the flavours together!