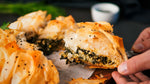 There are few better ways to showcase Farm Fresh spinach than in Spanakopita. This traditional Greek filo, spinach, and feta pie is delicious served hot or cold, and even freezes well. Stock up on organic spinach at the Farm Store and fill your freezer with tasty spanakopita to enjoy all year long!
Spanakopita Pie
2 T olive oil, plus more for brushing
1 bunch green onions, thinly sliced
10 oz (8 to 10 cups) baby spinach
1/2 t kosher salt
8 oz phyllo dough, about half a box, defrosted
1 bunch fresh dill or parsley leaves and tender stems, chopped
1/2 C plain breadcrumbs
5 oz feta, crumbled
1/8 t finely ground black pepper
3 large eggs, whisked well
    -
Preheat oven to 400 degrees & brush 9" pie plate with oil.
In large skillet over med-high heat, heat 2 T of olive oil until shimmering. Add green onions & cook until they start to brown, about 1 min. Add the spinach & salt, cook until spinach wilts, releases its liquid & dries out, about 5 min. Let cool.
Unravel phyllo dough onto a clean, dry work surface. Working quickly, gently brush the top sheet of phyllo with some oil. Pick up the first three or four sheets of phyllo in a stack & lay them, oil side up, in the pan, allowing one narrow end to cover the bottom of the pan & the other end to climb up the side of the pie plate & hang over the edge.
Repeat, brushing the top of the remaining stack of phyllo sheets, & placing the next three or four sheets into the pan, oil side up. Continue oiling & fitting the oiled phyllo into the pie plate, rotating pan so the bottom is covered & a phyllo is hanging evenly over edges of pie plate.
Add the dill or parsley, breadcrumbs, feta & pepper to the spinach, mix. Add the eggs, mixing well. Pour filling into the phyllo-lined pie plate & crinkle the phyllo over the top, leaving 5-6" diameter in the center exposed. Lightly oil any dry spots of phyllo before baking.
Bake for 25 to 35 min, until the filling is set & phyllo is deep brown in places. Serve hot or at room temperature.