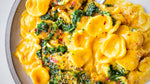 This week's meal of the week is a new way to enjoy those sweet, sweet Farm Fresh carrots, including the green tops! Did you know that carrot tops are edible?! They are reminiscent of parsley, and make a great pesto or addition to homemade stock.
Pasta with Carrot Miso Sauce and Kale
8–10 oz pasta, cooked in salted water
1/2 onion, chopped
4–6 garlic cloves, rough chopped
2 T olive oil
2 heaping cups carrots, thinly sliced (3 medium carrots)
2 C water
1/4 C raw cashews (or sub raw hemp seeds)
1/4 t each salt & pepper 
3 T miso paste
1 bunch Red russian kale, chopped
Carrot Top Gremolata
1/2 C carrot tops packed or sub 1/2 C more Italian Parsley
1/2 C Italian parsley
1 fat garlic clove
1 T lemon zest ( zest from one med lemon)
1/4 t salt
1/3 C – 1/2 C olive oil
    -
Cook pasta according to directions. Drain & add chopped kale. Cover & let steam.
Heat oil in a medium pot over medium heat. Saute onion & garlic until fragrant and golden. Add carrots, cashews, water, salt, pepper & bring to boil. Cover & simmer over low until carrots are fork-tender, about 15 min. Stir in miso, cool 5-10 min.
Make Carrot Top Gremolata by mixing all ingredients in food processor.
Once the carrots are slightly cooled, place all in high-speed blender & blend on lowest setting, gradually increasing speed, until smooth, about 1 - 1 1/2 min.
Pour sauce over drained pasta & gently warm if needed. Taste and adjust salt. Divide among bowls & sprinkle with Carrot Top Gremolata
Photo by and recipe inspired by: Feasting At Home