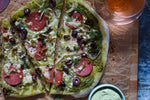 This fennel, pesto, and calabrese pizza is bursting with summer flavours. With a lemony basil pesto base and balsamic-infused fennel, olives, spicy calabrese, and cheese as toppings, this pizza is sure to become a favourite. 
Makes 4 medium pizzas, enough to serve 8. 
Fennel, Pesto, and Calabrese Pizza
1 batch of Jim Lahey's No-Knead Pizza Dough (must be made 18 hours in advance), or 1 lb of store-bought pizza dough
Basil Pesto
1/2 cup shelled pumpkin seeds (pepitas)
2 garlic cloves
½ teaspoon sea salt
Freshly ground black pepper, to taste
¼ cup extra virgin olive oil 
¼ cup freshly squeezed lemon juice
1/3 cup finely grated Pecorino or Asiago cheese
2 cups fresh basil
Sautéed Fennel
1 tablespoon extra virgin olive oil 
4 garlic cloves, sliced
2 fennel bulbs, chopped 
Pinch each fine sea salt and freshly ground black pepper
1 ½  tablespoons balsamic vinegar
Everything Else
1 cup pitted Kalamata olives, sliced 
180 grams organic calabrese sausage, thinly sliced 
2 cups grated mozzarella or fontina cheese
Green Goddess Avocado Hemp Dipping Sauce (optional)
1/2 cup water
½ cup hemp hearts
1/2 a medium ripe avocado
1 celery rib, chopped
Juice of 1 lemon (about ¼ cup)
1 tablespoon apple cider vinegar
1 teaspoon raw honey
1 garlic clove
½ teaspoon sea salt
Freshly ground black pepper to taste
½ cup fresh dill 
Instructions: 
Prepare the pizza dough according to the instructions. 
Prepare the pesto:

Place the pumpkin seeds and garlic in a food processor fitted with the 'S' blade. Process until coarsely ground. Add the remaining ingredients and process until smooth. Transfer into a container or jar until ready to use. 
Prepare the fennel:

Warm the oil in a skillet over medium heat. Add the garlic and cook for a couple of minutes, until lightly browned. Add the fennel and a generous pinch of salt and pepper. Continue cooking, stirring occasionally, for 8 minutes. Add the balsamic vinegar and cook for two more minutes. Remove from the heat. 
Preheat the oven to 500 degrees F. If using pizza stones, preheat them in the oven.
Divide the pizza dough into 4 equal pieces. On a floured surface and with lightly floured hands, take one of the pieces and stretch or roll out with a rolling pin to fit the area of your pizza stone or sheet pan. (If using a sheet pan, it's a good idea to lightly oil it with some olive oil.) Transfer the dough onto your pan. 
Spread the dough with ¼ cup of the pesto, followed by a quarter of the fennel, a quarter of the olives, a quarter of the calabrese, and a quarter of the cheese. 
Bake for 10 minutes, or until the cheese has melted and the crust is lightly browned. 
Repeat steps 6 and 7 with the remaining dough and toppings.
If desired, make the green goddess dipping sauce while the pizza is baking by combining the water, avocado, hemp, celery, lemon juice, apple cider vinegar, garlic, honey, salt, pepper, and dill in a blender and blending until smooth. (This is also a great all-purpose dip for raw veggies and roasted potatoes!)
Recipe & photos courtesy of Up Beet Kitchen