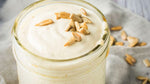 Use this simple sunflower seed salad dressing to jazz up some Farm Fresh greens, drizzled in a sandwich or wrap, or make it a bit thicker to use it as a spread of dip. Versatile recipes are the best recipes!
Creamy Sunflower Seed Salad Dressing
1/2 C toasted sunflower seeds
3/4 C water
Juice from 1 lemon
1 T miso 
1 garlic clove
1 bunch of herbs (sage is delicious)
1/4 t salt
    -
Place all the sunflower seed dressing ingredients into your high-powered blender and blend on high until smooth.
Store for up to a week in a jar in your fridge.
Farm Fresh Tips - Try soaking the sunflower seeds in water for at least 5 hours before draining & blending. This can make the sunflower seeds easier to digest. If you pre-soak the seeds, decrease the amount of liquid in the recipe.
Make a delicious dip by using less liquid and adding some nutritional yeast.