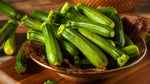 Zucchini is such a versatile vegetables. It's subtle flavour makes it a great base for some many tasty treats, from thesem savoury Zucchini Garlic Bites, to sweet zucchini muffins and chocolate zucchini bread.
Zucchini Garlic Bites
1 C shredded zucchini*, drained well
1 clove garlic, finely grated
1/3 C breadcrumbs
1/4 C grated Parmigiano-Reggiano cheese
1 large egg*
1 finely chopped green onion*
1 T chopped fresh parsley*
1 t chopped fresh basil*
1 t chopped fresh oregano or marjoram*
    -
Preheat oven to 400˚F. Lightly coat a baking sheet with olive oil or non-stick spray. Set aside.
Use a box grater to grate the zucchini into a clean towel. Roll up the towel & twist to wring out the moisture.
Add the shredded zucchini, finely chopped garlic, egg, breadcrumbs, parmesan, onion, herbs, salt & pepper to a medium bowl. Mix well.
Using your hands, shape one T of the mixture into a ball & place on the baking sheet. Repeat.
Bake for 15-18 min in the preheated oven until golden. Serve warm with marinara sauce.
growagoodlife.com/zucchini-garlic-bites
Farm Fresh Tip: