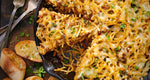 Why spaghetti pie? I don't know. When I read the recipe, I got excited. That's a good enough reason! Try making a double batch and freezing it for a ready to go meal in a week or two.

Spaghetti Pie
8oz whole wheat spaghetti
2 ½ C bolognese sauce
1 C cottage cheese
2 large eggs
2 T finely chopped parsley
1 t salt
1 bag spinach, chopped & wilted
½ C shredded mozzarella
4 T grated parmesan
  -
Preheat oven to 350f and generously oil a 9" deep pie dish.
Cook pasta in salted water, remove 3-4min before fully cooked.
Mix bolognese sauce, cottage cheese, eggs, parsley & sauce.
Squeeze as much liquid from the spinach as possible, then add to bolognese mixture. Add ¼ C mozzarella & 2 T parmesan, followed by spaghetti. Mix well & transfer to prepared pie dish. Top with remaining cheese.
Bake until cheese is bubbling & golden, 25-30 min. Let rest 5 min before serving in wedges.
Simple bolognese: Sautee 6 carrots, 1 large onion, 5 celery stalks, 6 garlic cloves in a pan. Cook small meatballs in the oven for 15 min, then add to the veg. Add a bunch of tomato sauce, 2 T maple syrup, thyme, salt & pepper, & simmer for many hours, or in a crock pot.
Well Plated Cookbook by Erin Clarke - p194