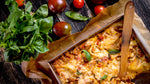 The days and nights are beginning to cool, and with them our bodies start craving warm and filling meals. Lasagna to the rescue! Sun-drenched tomato sauce, smooth roasted zucchini and eggplant, creamy cheese, all held together by noodles - lasagna is the ultimate comfort food!
Roasted Vegetable & Beef Lasagna
1 lb ground beef*
1 T olive oil
1 yellow onion, chopped*
1 container sliced mushrooms*
¼ t salt
Roasting veg: zucchini, eggplant, peppers, chopped*
1 C baby spinach*, roughly chopped
1 T olive oil
2 cloves garlic, minced*
1 can crushed tomatoes
¼ C fresh basil, sliced into ribbons *
½ t salt
¼ t crushed red pepper flakes (optional)
2 C ricotta cheese
3/4 C parmesan cheese, divided
2 C freshly grated mozzarella cheese*, divided
1 egg, beaten*
1 T Italian seasoning
¼ t salt, to taste
Freshly ground black pepper, to taste
9 no-boil lasagna noodles* (try Chickapea from the farm store!)
---
Roast veggies: Toss chopped roasting veg with olive oil and salt, roast at 400 for 10-25 min until browned. 
Make beef & veggie mix: Cook beef in a large pan over medium-high until browned. Remove from pan and set aside. Add olive oil to pan and saute onions and mushrooms, add salt as they cook to draw out moisture. Add spinach until wilnted and moisture has evaporated. Add beef and roasted vegetables to pan.  
Make sauce:In a medium pot, heat olive oil over low. Saute garlic for 1 minute, pour in crushed tomatoes, basil, salt, and crushed red peppers. Simmer. 
Cheese:  mix ricotta, ¼ C parmesan, ¾ C mozzarella, egg, italian seasoning, salt & pepper until combined. 
Assemble: spread 1 C of sauce in a 9x13 dish. Layer lasagna noodles over. Spread half of cheese mix, then half of beef & veg mix, then half of sauce. Sprinkle with ½ C mozzarella and 2 T parmesan. Top with more lasagna noodles and repeat previous order. Top with more lasagna noodles, remaining sauce and remaining mozzarella & parmesan cheese. 
Bake: cover lasagna with foil or parchment paper, bake for 20 min at 425. Remove cover, rotate pan, and cook 10-12 more minutes. Let cool before slicing and serving with more basil on top!
www.allrecipes.com/recipe/232465/easy-roasted-vegetable-lasagna