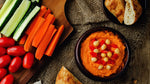 Not only does the addition of roasted red pepper make this hummus delicious, it also gives it the most beautiful vibrant colour! Eat with your eyes and make this red pepper hummus today!
Roasted Red Pepper Hummus
1 Red Bell Pepper
1 15 oz Can chickpeas drained, brine reserved. (about 2 C cooked chickpeas)
1/4 C Tahini
1 1/4 t Smoked paprika
1/2 t Cumin, ground
1/2 - 3/4 t salt to taste
2 Cloves garlic
1 Lemon, zested
1 T + 1 t Lemon juice
2-4 T Chickpea brine reserved from can of chickpeas
Olive oil for drizzling
—
Roast red pepper:
Oven Roasted Pepper

: Preheat oven to broil. Place the peppers on a sheet pan on the top oven rack & char the pepper for about 15 minutes using tongs to rotate the pepper every 4-5 minutes so that all sides, tops and bottoms are blackened. 

Stove Top or BBQ Open Flame Roasted Pepper

: Place the peppers on the grate over a medium open flame, using tongs to turn the peppers as they char (tops and bottom too), getting them good and blackened. This takes about 15 minutes.
Remove the pepper from the oven/stovetop/grill, placing the pepper in a bowl. Cover for 10-15 minutes to steam (this will help the skin slip off with ease). Once cool enough the handle slide blackened skin off pepper, remove stem & seeds, discard.
Add chickpeas, pepper, tahini, paprika, cumin, salt, garlic, lemon zest & juice. Whiz. Stop to scrape the pitcher down periodically.
Drizzle in the chickpea brine a few tablespoons at a time to loosen the hummus. Taste the hummus for seasoning adjustment. Blend until perfectly smooth & desired consistency is reached.
Garnish with a sprinkle of paprika, chopped parsley & drizzle of olive oil.
Store in the refrigerator for up to three days or in the freezer for up to two weeks.