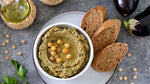 Is it hummus? Is it baba ganoush? Really, it's neither, but it is delicious! Roasted eggplant and smoked paprika give this dip or spread a satisfying smokey flavour and smooth texture, along with epic flavour!
Smoky Roasted Eggplant Hummus
1 1/2 lbs Eggplant, about 2 medium globe eggplants
3-4 Large Cloves garlic, skin removed
2-3 T Olive Oil extra virgin
2 C Cooked chickpeas drained, brine reserved (about one 15 oz can)
1/3 C Tahini
1 1/2 t Fine sea salt, more to taste
3/4 t Cumin, ground
1 1/4 t Smoky paprika
1 Lemon zest + juice
1-2 T Chickpea brine, add more or less to adjust consistency
—
Preheat oven to 450F and set oven rack to top half. Line a large sheet pan with parchment paper. Wrap the garlic in a small piece of foil & drizzle about 1 tsp of olive oil over the top. Wrap loosely & set on the sheet pan. Cut eggplant in half lengthwise & score the flesh in shallow cross marks. Generously brush olive oil on the flesh & arrange flesh side down on parchment paper. Roast the garlic & eggplant for about 30 minutes or until the eggplant skins darken & begin to sink. Remove from oven & cool. Scrape flesh from the skin, discard the skin & set flesh aside.  
In the work bowl of a food processor, add drained chickpeas, roasted garlic & eggplant (if your eggplant is watery, use only the flesh straining away the liquid as best you can), tahini, salt, cumin, paprika, lemon zest and juice & chickpea brine. Whirl the ingredients for about two minutes or until desired consistency is reached. Add more brine, 1 T at a time, if a looser hummus is desired. Taste for seasoning adjustment adding more salt if needed.
Serve chilled or at room temperature with naan, fresh veggies, pita or crackers. Garnish with parsley & drizzle of olive oil. Store in the refrigerator for up to four days or freeze for up to a month.