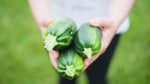 Don't be scared by the idea of fermentation. It might take a bit of time, but it really couldn't be easier. At the end, not only do you have some delicious fermented zucchini pickles to enjoy for months to come, but fermented foods are great for your belly - introducing millions of beneficial bacteria to the gut helping to aid in digestion and improving overall health.
Fermented Zucchini Pickles
4 C zucchini, thinly sliced into rounds
¼ of a medium sized red onion, thinly sliced
3 garlic cloves*, smashed
2 t grated ginger
4 C filtered water
2 T sea salt
½ t ground turmeric  
-
Thinly slice zucchini into rounds & add to a half gallon jar or split between smaller jars. Add the red onion, garlic and ginger.
Make the salt water brine by mixing ½ C of warm water with the salt and stir until dissolved.
Add the remaining water to the salt water once the salt has dissolved. Add turmeric & mix.
Pour brine over zucchini. There should be enough to submerge the zucchini under the brine. If not, make more brine and add it to the jar.
Cover jar loosely with lid & store in a cool, dry place away from direct sunlight for 3-7 days.
Once the brine is cloudy, try a zucchini to see if it's ready. It should be sour and smell like pickles.
Store in the refrigerator for up to a month.
www.fermentedfoodlab.com/fermented-zucchini-pickles