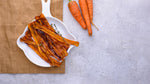 Carrot BACON?! 
If you've been in the farm store recently, you must be aware we have a new product that Farmer Jolianne is very excited about. Liquid smoke. She uses it in everything. Tofu, eggplant, and now in a marinade with carrots! Give it a try! 
3 T tamari
2 T olive oil
½ T maple syrup
1 T tahini
¼ t paprika
½ T garlic powder
¼ t ground black pepper
¼ t liquid smoke*
2 large carrots, peeled
---
Mix marinade: mix tamari, oil, maple syrup, tahini, paprika, garlic powder, pepper, and liquid smoke together in a bowl. 
Peel carrots: use a veggie peeler to peel carrots in to long strips. Add to marinade bowl and let sit for at least 15 minutes! The longer the better. 
Cook in oven: on a lined baking sheet for 10-15 minutes at 400, flipping halfway. Check every 5 min for burning! 
Cook in airfryer: (the best option!) in batches at 350 for 10 minutes