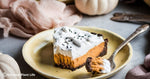 Don't be fooled by the title, this is indeed a sweet pumpkin pie! Give it a whirl this Thanksgiving and see how it compares to your traditional pie!


Pumpkin Miso Tart
Crust
1/3 c black sesame seeds
1 3/4 c raw walnuts
5 T pure maple syrup*
1/2 t each ground ginger & salt
1/4 c unsweetened cocoa powder or cacao powder

Tart Filling
1 1/4 c raw cashews, soaked in boiling water for 1 hour
1/2 c canned coconut milk
2 T cornstarch or arrowroot powder
1/2 c pure maple syrup*
1 ½ c pumpkin* puree
1 1/2 T mild miso paste*
3 t pumpkin pie spice A pinch or two of salt
1 t orange zest
3-4 t freshly squeezed orange juice
1 t pure vanilla extract
---
Preheat oven to 350°F.
Make crust: Finely crush black sesame seeds using an electric spice grinder, coffee grinder, or mortar and pestle.
In food processor, pulse walnuts until finely ground. Add ground black sesame seeds, maple syrup, salt, ginger, & cocoa powder, blend until well combined & dough sticks together when pressed. Press dough evenly on bottom & up sides of 9" tart pan. Place pan in freezer to set.
Make filling: Drain cashews & rinse. Add cashews to high-powered blender or food processor & blend. Add all remaining filling ingredients & blend until filling is very smooth and creamy.

Pour filling on top of chilled crust & smooth. Tap pan against counter to release any air bubbles.
Bake tart in preheated oven for 45-50 min until filling is set. Allow to come to room temperature, then refrigerate for at least 2 hours before serving


rainbowplantlife.com/pumpkin-miso-tart-vegan-gluten-free