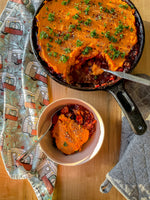 This Harvest Vegetable Turkey Shepherd's Pie from Up Beet Kitchen is packed with beets, carrots, celery, turkey, and beans. It's full of flavour thanks to plenty of onion, garlic, balsamic, Worcestershire sauce, tamari, and barbecue sauce. The topping can be made with sweet potatoes or white potatoes. This recipe can also be made vegan by replacing the turkey with an equivalent amount of crumbled tempeh or tofu and using non-dairy alternatives in the mashed potato topping. Serve this delicious and healthy shepherd's pie with roasted Brussels sprouts and bread and butter for a great hearty harvest meal. Serves 6. 
Ingredients
For the mashed sweet potato or white potato topping:

6 heaping cups peeled and cubed sweet potatoes or white potatoes
1 tablespoon butter, softened 
1/3 cup milk
1 teaspoon garlic powder
¾ teaspoon sea salt

For the turkey and vegetables: 
2 tablespoons extra virgin olive oil 
1 medium yellow onion, chopped
3 garlic cloves, minced 
1 pound (454 grams) organic ground turkey 
½ teaspoon sea salt
Freshly ground black pepper, to taste
1 teaspoon dried rosemary
1 teaspoon dried thyme
½ teaspoon hot red pepper flakes
2 celery ribs, chopped
2 carrots, diced 
1 medium beet, peeled and chopped small
2 tablespoons balsamic vinegar 
1 tablespoon tamari
1 tablespoon Worcestershire sauce
¼ cup barbecue sauce or tomato paste
1 ½ cups cooked kidney beans (or 1 14-oz can, drained and rinsed)
2 cups chicken broth or vegetable broth
2 ½ tablespoons all-purpose flour
Instructions
Steam the sweet potatoes: 
Place the sweet potatoes (or potatoes) in a steamer basket over a pot filled with a couple inches of water and steam for 15-20 minutes, or until tender. Transfer into a bowl. Mash with a potato masher, then stir in the butter, milk, garlic powder, and salt. Set aside. 

Prepare the shepherd's pie:
 Warm the oil in a large skillet over medium heat- preferably one that is oven-proof. (I used my 11-inch Lodge cast iron skillet.) Once warm, add the onion and garlic. Cook for five minutes, stirring occasionally. Add the turkey and cook until no longer pink. Add the salt, pepper, rosemary, thyme, and hot red pepper flakes, followed by the finely chopped celery, carrots, and beet. Cook for 5 minutes.


Stir in the balsamic vinegar, tamari, Worcestershire sauce, and barbecue sauce. Add the kidney beans and broth. Sprinkle the flour over top and gently stir in. Bring to a simmer over medium heat and cook for ten minutes, stirring occasionally.
Preheat the oven to 375 F. If you are not using an oven-proof skillet, transfer the stew into a casserole dish.
Dollop the mashed sweet potatoes over top of the stew and spread out in an even layer.
Bake for 35-40 minutes.

Note:

The stew can sometimes bubble over towards the end of baking, depending on the depth of your skillet/casserole dish, so keep an eye on it towards the end of the 35 minutes. It can be helpful to slide a cookie sheet on the oven rack underneath the skillet around the 25-minute mark.




Remove the shepherd's pie from the oven and allow it to sit for 5-10 minutes before serving.
Eat and enjoy!!