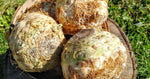 Celeriac might look intimidating, but don't let it scare you! It has a lovely delicate celery flavour and is incredibly versatile. Give it a peel, and then get started.
Treat it like a potato - roast, mash, french fry.

Makes a delicious, creamy puree.

Spiralize to make noodles to add to ramen soup or enjoy raw in salad.
Use this White Bean and Celeriac puree as a side dish to a roast dinner, or as a topping for shepherd's pie!
White Bean Celeriac Puree

2 small celeriac bulbs*
Fine sea salt, to taste
3 T extra virgin olive oil
3 medium garlic cloves*, thinly sliced
½ c milk, heated
One 14-ounce can cannellini beans, drained and rinsed
1 T white miso*
Salt & pepper to taste
    -
Peel celeriac & cut into 1" chunks. Cook in salted boiling water until fork-tender, 15-20min.
Meanwhile, in small skillet cook garlic in oil until lightly golden, about 30 seconds. Transfer to a food processor, along with heated milk, drained celeriac, beans, miso & pepper. Puree until smooth. Taste and adjust the seasonings, if needed.
thenewbaguette.com/celeriac-puree