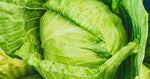 Make cabbage the star of the show with this simple but delicious miso glazed cabbage recipe. Use it as a side dish, or top a salad with the warm and flavourful wedges of cabbage.
Miso Glazed Cabbage
1 head cabbage*
30 g miso paste*
1 clove garlic*, mince
10 g ginger*, finely grated
2 green onions*, finely sliced
10 ml soy sauce
20 g brown sugar
1 lime
20 ml rice vinegar
40 ml sesame oil
    -
Preheat the oven to 400°F. Halve the cabbage and cut into quarters. Mix lime juice, ginger, garlic, miso paste, rice vinegar, sugar, & sesame oil.
Arrange cabbage wedges on baking sheet & brush with marinade. Roast for approx. 35 min. Halfway through, brush the cabbage with any marinade from baking sheet. To serve, sprinkle with sesame seeds and scallions.
www.kitchenstories.com/en/recipes/easy-miso-glazed-cabbage