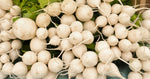 Wondering what to do with those delicious sugar drop radishes other than just crunching them straight from the fridge? With the coming of the cooler weather this pan roasted sugar drop radish recipe is a great way to change up your veggie side dish game!
Pan Roasted Sugar Drop Radishes

2 pounds sugar drop radishes with tops (1 bunch)*
1 T olive oil
1 T + 1 t  maple syrup*, divided
2 t sherry vinegar
1 t Dijon mustard
1 1/2 t salt, divided, plus more to taste
1/2 t black pepper
1/4 c butter, divided
1/4 c finely chopped red onion*
2 t finely chopped garlic*
1 1/2 t finely chopped fresh rosemary or thyme*
2 T water
    -
Trim radish stems to 1/2 inch; reserve greens. Cut radishes into 3/4-inch wedges to equal 5 cups. Coarsely chop turnip greens to equal 8 loosely packed cups.

Whisk together oil, 1 T maple syrup, vinegar, Dijon & 1/2 t salt in large bowl. Add turnip greens; massage to coat. Let stand at room temp 20 minutes.

Meanwhile, toss together radish wedges, pepper, 1/2 t salt & 2 T butter in bowl. Arrange radish mixture in a single layer in a 12- to 14-inch skillet. Cook over medium-high, stirring occasionally, until radishes are crisp-tender and browned, 15-17 min. Transfer to a large bowl.
Add remaining ingredients to pan & saute until onions & garlic are lightly browned. Add greens & water, cook just until wilted. Mix radishes and greens together and serve.
www.foodandwine.com/recipes/schmaltzy-hakurei-turnips-rosemary