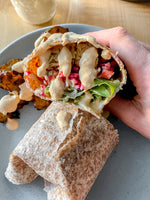 These Korean-inspired barbecue tempeh wraps with kimchi tahini sauce from Up Beet Kitchen are bursting with flavour and colour thanks to all the vibrant veggies inside. Pair them with a side of miso-glazed delicata squash for a tasty and wholesome vegan autumn meal. Serves 4-6.

Ingredients:
Barbecue Tempeh
2 8-oz blocks tempeh, cubed
1/3 cup barbecue sauce
1-2 tablespoons sriracha, to taste
2 tablespoons tamari
2 tablespoons apple cider vinegar or rice vinegar
1 tablespoon toasted sesame oil 
1 tablespoon minced fresh ginger
2 garlic cloves, minced
1 tablespoon extra-virgin olive oil, for cooking

Kimchi Tahini Sauce
1/3 cup tahini
1/3 cup kimchi
Juice of 1 lime
¼ cup water
For Serving
Shredded beets
Thinly sliced peppers
Shredded lettuce or cabbage
Sliced avocado
Chopped green onions
Cilantro
Shredded cheese
Tortillas
Miso-Roasted Delicata Squash
2 small delicata squash, halved, seeded, and chopped into ½-inch slices
2 tablespoons miso
1 ½ tablespoons extra-virgin olive oil
Instructions:
Prepare the tempeh

: In a bowl, whisk together the barbecue sauce, sriracha, tamari, apple cider vinegar, sesame oil, ginger, and garlic. Add the tempeh and toss to coat. If possible, set aside for at least 30 minutes to marinate. 

Cook the tempeh:

Warm the olive oil in a skillet over medium heat. Add the tempeh and cook, stirring occasionally, until browned all over, about 10 minutes. 

Make the kimchi tahini sauce:

Combine the tahini, kimchi, lime juice, and water in a blender. Blend until smooth. 

Assemble:

Place desired amount of tempeh down the middle of a tortilla. Top with beets, peppers, lettuce or cabbage, cilantro, cheese, avocado, etc. Drizzle with the sauce and wrap up. 
For the miso-roasted delicata squash:
This is an optional accompaniment, but highly recommended. Preheat the oven to 425 F and line a large rimmed baking sheet with parchment paper. In a bowl, toss together the squash, miso, and olive oil. Transfer onto the baking sheet in an even layer and roast for 15-22 minutes, until the squash is tender and crispy around the edges.