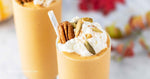 Tis the season for pumpkin spice everything! Make your own PSL at home, using actual pumpkin and sweetened with frozen bananas.
Pumpkin Spice Latte Smoothie
2/3 c pumpkin* puree
1/2 c coconut milk (canned, full fat)
1/2 c Greek yogurt
1/4 c almond milk or more, to thin to desired consistency
2 bananas, quartered and frozen
6 cold brew coffee cubes or ice cubes + 2 t instant coffee
1 t pumpkin pie spice
    -
Add all ingredients to a blender, and process until the mixture is smooth and creamy.

Add in additional almond milk if a thinner consistency is desired.

As written, this makes a very thick, ice-cream like smoothie.
sunkissedkitchen.com/pumpkin-spice-latte-smoothie