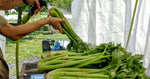 Let our delicious celery be the star of the show with this Cheesy Celery Gratin recipe!
Cheesy Celery Gratin
2 T unsalted butter
1 bunch celery* sliced into ¼-inch thick slices
1 medium onion*, chopped
1 large clove garlic*, crushed
½ c chicken or vegetable stock
4 oz (115 g) cream cheese
⅛ teaspoon black pepper
3 T fresh minced parsley*
3 oz (85 g) sharp white cheddar or Swiss cheese (or a combination of both), shredded
    -
Preheat the oven to 425F.
Preheat large skillet over medium heat. Melt butter, add celery & onion, cook until softened but not browned, ~ 10 min, stirring occasionally. Add garlic, cook 1 min more, stirring constantly.
Add stock & bring to boil; whisk in cream cheese until smooth. Add pepper & parsley.
Transfer celery mixture to a 1.5-quart casserole dish; sprinkle cheese on top. Bake until casserole is bubbling, 10 to 15 minutes. Broil to brown top if desired.
https://www.anediblemosaic.com/low-carb-cheesy-celery-gratin/