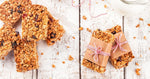 It's the time of year for pumpkin spice everything, even granola bars! The beauty of making your own granola bars is that you can choose exactly what goes into them. Use this pumpkin chocolate chip granola bar recipe as a base, and then add whatever nuts, seeds, and spices you like!
Feel free to use any of our winter squash for this recipe, pie pumpkins aren't the only show in town.
Pumpkin Chocolate Chip Granola Bars
2 c old fashioned rolled oats
1/2 c chopped pecans
2 T hemp or chia seeds
2 t pumpkin pie spice
1/4 t salt
1/2 c pumpkin* puree
1/4 c coconut oil, melted
1/3 c maple syrup
1 t vanilla extract
1/3 c chocolate chips
    -
Pre-heat oven to 350 degrees. Line 8x8 pan with parchment paper & lightly oil the paper & the sides of the pan. Set aside.

In large bowl mix together oats, pecans, seeds, pumpkin pie spic & salt.

In smaller bowl, whisk together pumpkin, coconut oil, maple syrup & vanilla. Pour wet ingredients into dry, mix until dry ingredients are completely incorporated. Fold in chocolate chips.

Spoon mixture into prepared pan. Pack in the mixture, making sure it's compact by pressing firmly into pan.

Bake for 20 min. Remove from oven & cool for at least 10 min. Once cooled, remove from pan. Cut into squares.

Stored in air tight container for 3 days, or fridge for 1 week.
www.wholesomelicious.com/pumpkin-chocolate-chip-granola-bars