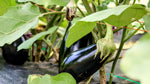 Eggplant is such a versatile vegetable, one which isn't always given the respect it so rightly deserves! It has a very mild flavour and so acts as an ideal vehicle for delicious sauces and toppings, such as this miso glaze. Cooked in this way the eggplant goes lovely a soft in the center, and the miso glaze adds an flavour unlike anything you've tried before.
Miso Grilled Eggplant
1 T sesame seeds
1 ½ pounds eggplant*, sliced into ½-in. Rounds (about 2 medium eggplant)
2 T olive oil
⅓ C miso*
1 T grated fresh ginger
1 T sesame oil
1 T honey*
1 T water
2 t rice vinegar
1 t roasted red chili paste 
⅓ C chopped green onions*
    -
Place sesame seeds in nonstick skillet over medium-low. Cook, stirring occasionally, until fragrant, 7 to 8 min.

Preheat oven to 450°F. Place eggplant slices on a baking sheet lined with parchment paper, and brush both sides with olive oil. Bake until tender, flipping halfway through, about 18 min. Let cool on baking sheet 10 min.

Whisk together miso, ginger, sesame oil, honey, water, vinegar, and chili paste in a small bowl.

Increase oven temperature to broil. Spread about 2 t of miso mixture on each eggplant round, and broil until fragrant and browned in spots, about 4 min. Sprinkle with toasted sesame seeds and green onions.
www.realsimple.com/food-recipes/browse-all-recipes/roasted-eggplant-with-miso-sesame-seeds