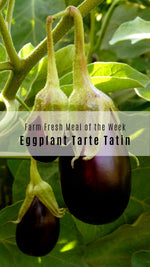 Don't let your tarte tatin game end with apples! With just a few simple ingredients you can whip up this unique meal, perfect for a summer al-fresco meal!
Eggplant Tarte Tatin Recipe
1-2 Eggplant*
Woody herbs - thyme, savoury, sage, oregano*
3T Maple Syrup*
Olive oil
1 recipe Pie Crust
Salt & Pepper
    -
Roast eggplant: Preheat oven to 400 degrees F. Slice eggplant into ½" circles & arrange on baking sheet. Drizzle with olive oil & add salt & pepper. Flip slices & repeat. Roast for 30-35 min until golden & soft.
Make pie crust of choice while eggplant roasts.
Assemble Tarte: In a pie plate spread some oil, 3 T maple syrup, & woody herbs *(thyme, oregano, savory). Place slices of roasted eggplant, about 2 layers (will take about 1 or 2 eggplant). Add salt & pepper to taste and then top with your pie crust. Bake for 35 min at 350.
Allow to cool for a few minutes and then invert onto a serving tray or cutting board (carefully!)
Enjoy with roasted carrot hummus and a Farm Fresh green salad.