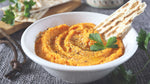 This might not technically be hummus but it's delicious all the same. Roasting the carrots makes them extra sweet, and when you whizz them together with the earthy flavour of cumin and the fresh green flavour of cilantro you end up with a delicious dip that is great with pita chips, fresh veggies, or as an accompaniment to our Eggplant Tarte Tatin.
Roasted Carrot Hummus
1 lb carrots*, peeled and cut into 1/2-inch pieces
2 cloves garlic, unpeeled
Extra-virgin olive oil
1 t ground cumin 
1/2 t kosher salt 
1/4 t ground black pepper 
3 T tahini 
1 T chopped fresh cilantro*, plus 1 teaspoon for garnish 
4-5T lemon juice*
    -
Roast carrots: Preheat oven to 400 degrees F. On a baking sheet, toss the carrots & garlic cloves with 1 T olive oil & cumin, salt & pepper. Roast until the carrots are tender & lightly caramelized, stirring halfway through, 20 to 25 min. Remove from the oven & let cool until warm. Peel the garlic cloves.
Make hummus: In a food processor, combine the roasted carrots & garlic with the tahini, cilantro, lemon juice & 5 T water. Pulse until smooth. With the processor running, slowly add 2-3 T olive oil. Transfer to a serving bowl. Make a small well in the center of the hummus & fill with olive oil. Sprinkle the remaining 1 t cilantro over the top. Serve with crudites & pita chips.
www.foodnetwork.com/recipes/valerie-bertinelli/roasted-carrot-hummus-3497617