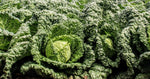 All the flavour of cabbage rolls, without the work involved in rolling each and every one! Just add everything to the pan, put it in the oven, and then sit back & relax!

Layered Cabbage Rolls

1½ lb ground beef
1 large onion*, chopped
2 cloves garlic*, finely chopped
2 t dried oregano
1½  t dry mustard
1 t celery salt
1/2 c long grain parboiled rice
1 28 oz can diced tomatoes
8 cups green cabbage
1 c chicken broth
Salt & pepper
    -
Preheat oven to 350 °F.
In a bowl, combine meat, onion, garlic & spices. Season with salt & pepper.
Crumble half the meat mixture into a 13 x 9" baking dish. Sprinkle with half the rice & cover with half the tomatoes. Layer with half the cabbage and press gently. Add remaining meat & rice in the same way. Cover with remaining tomatoes. Layer with the remaining cabbage. Season with salt and pepper. Add the broth.
Cover with a sheet of aluminum foil & bake for 2 hours. Remove foil & bake for 30 min.