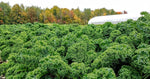 Creamy, warm kale gratin is a perfect side dish on a cold winter evening. If you think you don't like kale give this a go, it will make you a believer!
Kale Gratin
2 bunches kale*, leaves torn from stem
1 small onion*, minced
½ t each salt & pepper
4 oz gruyere cheese, grated
4 oz sharp cheddar cheese, grated
2 oz parmesan cheese, grated
2 garlic cloves*, minced
2 c heavy cream
1 T Dijon mustard
½ t freshly grated nutmeg
½ c panko bread crumbs
3 T seasoned fine breadcrumbs
    -
Preheat the oven to 350 F. Great a 9x13" baking dish.
Tear the kale into pieces and place it in the baking dish. It may be overflowing, but that's good, it will cook down in the oven. Add the onion, toss well. Add salt & pepper.

Toss the cheeses together in a bowl. Add almost all of the cheese to the kale, tossing it well to combine.
In a large bowl whisk together garlic, cream, mustard & nutmeg. Pour cream mixture over kale. Cover with remaining cheese. Sprinkle breadcrumbs on top.
Bake for 45 min until top is golden & crisp & edges are bubbly.
Note: this can be made ahead of time, but best reheated right before serving.
www.howsweeteats.com/2019/11/kale-gratin