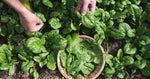 A super simple recipe to whip up and great served alongside roasted rings of delicata squash.

Spinach Cottage Cheese Pie
16 oz cottage cheese
3 c fresh spinach*, chopped
1 c mozzarella cheese, shredded
4 eggs, lightly beaten
7 oz jar red peppers, well drained & chopped
⅓  c Parmesan cheese, grated
1 t dried oregano
    -
Preheat the oven to 350F. Grease a 9-inch pie plate.

Combine all ingredients in bowl, mix well. Pour into the prepared pie plate.

Bake in the preheated oven until the center of the pie is set, 35-50 min.