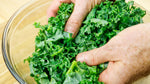 Massaged Kale 
"Massaging your kale turns it into a delicate, tender, dark-green delight that will keep well in the fridge for up to a week!" Sarah Britton - Naturally Nourished  
4 C kale
1 T olive oil
1 T lemon juice
½ t salt

Remove the stems and tough ribs from the kale. Roll up the leaves into cigar shapes and slice crosswise to make ribbons. 

Combine the kale in a large bowl with the rest of the ingredients. 

Using your hands, rub and squeeze the kale together, as if you are giving it a nice massage! In around 2 minutes, your kale should be dark green and tender!  

This will keep well for up to a week in the fridge.

Pressed salads
A pressed salad is a technique that uses salt to help break down some of the hard-to-digest fibers of the vegetables. After massaging the vegetables, which releases their water, you press them down with a plate to mix the water with the salt, which essentially dresses the salad, so you don't need any other sauce besides a light squeeze of lemon, if you wish." Sarah Britton - Naturally Nourished  
Roasted sweet potato and butter beans with massaged kale 
1 sweet potato, cubed
1 t coconut oil, melted
¼ t salt
1 recipe massaged kale, above
1 red onion, thinly sliced
⅓ pumpkin seeds
1 ½ C butter beans, drained and rinsed

Lemon Garlic Dressing: 
1 garlic clove, minced
2 T olive oil
Zest of 1 lemon
2 T lemon juice
½ t maple syrup

Toss the sweet potato with the coconut oil and salt and roast for 15-20 min at 400 F. 

Toast the pumpkin seeds in a small, dry skillet preheated over medium heat for 3-5 minutes. Cool and crush slightly, if desired, in a mortar and pestle, for extra crunch. 

Mix the dressing ingredients together. 

Pour half of the dressing over the beans in a medium bowl and let marinate for 5- 10 minutes. 

Assemble together the kale, sweet potato, beans, and red onion. Pour the remaining dressing over top and sprinkle with the pumpkin seeds. Enjoy! 
Massaged kale pressed salad 
 4 C kale
½ head red cabbage
1 each: carrot, sweet potato, fennel bulb, red onion, apple
1 ½ t ginger, peeled and minced 
2 t salt
1 lemon, juiced
Fresh parsley and cilantro, lemon wedges, and olive oil

Remove stems from the kale, roll leaves into cigar shapes and slice crosswise to make ribbons. 

Finely slice the cabbage, carrot, sweet potato, fennel, red onion, and apple. Combine these with the kale and ginger in a large bowl. 

Sprinkle with salt and squeeze and rub together until the vegetables begin to break down and release a lot of liquid.

Press the salad using a plate directly on top of the massaged vegetables and weigh down with a heavy object ( a pot or jar filled with water for ex.). Press for 30 minutes. 

To serve, fold in the lemon juice and sprinkle with herbes. Serve with a lemon wedge and a drizzle of olive oil. 

This salad keeps well for a  few days in the fridge.

Sarah Britton - Naturally Nourished