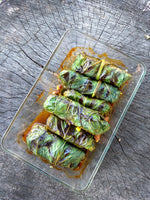 Jolianne has been raving about these! She piles hers with beef,  BBQ sauce but why not try slow cooked peas, roasted tempeh, tofu, hummus, egg, or just fill it with mushrooms and veg!
BBQ Black Eyed Pea Collard Rolls

9 Collard leaves
3 C chopped collards
1 T coconut oil
1 ½ C slow cooked black eyed peas
2 C mushrooms, diced small
3 dashes tabasco, or to taste
Salt & Pepper, to taste
BBQ sauce
Filling: Rinse collards and chop stem at base of leaves. Rinse the chopped collards. Place the 9 collard leaves in a large pot of boiling water and boil for 6 minutes. Drain and rinse with cold water. Place, flat, on a clean kitchen towel.
Melt coconut oil in a large saute pan, cook mushrooms on medium for about 5 min, add chopped collards and cook until wilted. Turn heat down and add peas. Add 1/4 C of BBQ sauce. Add tabasco salt & pepper. 
Assemble
: grease a medium casserole dish and line with any extra collard leaves you have. Take one of your 9 leaves and add a heaping quarter cup of filling towards the base. Carefully roll up like a burrito. 
Place into prepared casserole dish. Repeat using rest of leaves and filling. Cover and bake at 350 for 25 min or until heated through. Warm extra BBQ sauce and drizzle on top of rolls!