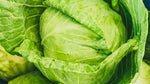 As the temperatures start to cool we turn to warm and comforting foods. This charred cabbage and apple dish makes the most of seasonal ingredients and works perfectly as a main meal or as a side dish (it would be great with roast pork).
Charred Cabbage with Apples and Toasted Walnut Sauce

1 small green cabbage
 ¼ t salt
1 ½ t coconut oil
1 apple, diced
1 t lemon juice
Handful parsley
Sea salt

Toasted walnut sauce: 
1 C walnuts
1 garlic clove
2 T olive oil
4 t apple cider vinegar
2 t maple syrup
2 pinches sea salt

Sauce: Preheat oven to 350. Toast walnuts on a baking sheet until golden, 7-10 minutes. They burn quickly, so keep an eye on them. Add walnuts, and rest of sauce ingredients to a blender. Blend on high, adding up to 1 cup of water to thin as necessary. Season with salt and store in fridge up to 5 days.

Remove outer leaves from the cabbage and cut into 6 wedges, leaving the base intact.

Bring ½ C water to a simmer in a large skillet, add the salt. Lay cabbage wedges in simmering water, cover, and steam until tender, 5 mins. Place cabbage on a plate and drain water.

Add the coconut oil to the same skillet on high. When oil is hot, add the cabbage back and cook until charred, about 5 mins. Flip wedges to brown on other sides.

Toss apples with lemon juice and a few parsley leaves, finely minced.

To serve, top cabbage wedges with apple, a drizzle of walnut sauce, parsley, and a sprinkle of flaky salt. 
Naturally Nourished - Sarah Britton