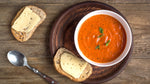 Take tomato soup and make it even more warm and comforting. That's exactly what this recipe does. You can use canned tomatoes to make this soup, or use a couple Farm Fresh tomatoes instead - you'll love this spiced soup no matter which you use.
North African Sun-Dried Tomato Soup with Couscous topping

1 T coconut oil
3 onions, chopped
2 pinches salt
3 garlic cloves, minced
2 t ground cumin
1 t ground cinnamon
2 t ground coriander
1 T peeled, minced fresh ginger
1 T harissa paste
2 red peppers, chopped
5-6 C vegetable broth
1 can whole tomatoes
1 C chopped sun-dried tomatoes 
1 ½ C cooked chickpeas, drained and rinsed
Couscous topping
---

Melt coconut oil in a large stockpot over medium heat. Add the onions and salt and stir to coat, cook about 10 minutes. Add the garlic, cumin, cinnamon, coriander, ginger, and harissa paste and cook until fragrant, about 2 minutes. Add peppers and cook 5 minutes more.

Add the whole tomatoes and their juices, the sun-dried tomatoes, and the broth. Bring to a boil, reduce heat to low, and cook 15 minutes. 

Transfer soup to a blender and blend until smooth. 

Return soup to the pot and add the chickpeas. 


Couscous topping: Cook ½ C whole wheat couscous with ¼ t salt according to package directions. Fluff with a fork and add ½ C chopped black olives, ½ C chopped fresh parsley, the zest of 1 lemon, 1 ½ t fresh lemon juice, and 1 T olive oil. Season with salt and serve over soup. 
Naturally nourished - Sarah Britton