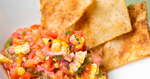 This recipe was recommended by our Marketing and Events Co-ordinator, Amanda. She loves the fresh flavour of this salsa compared to traditional cooked salsa, adding a summer burst to meals all year long!
Tip from Amanda - Once you open a jar I find this salsa doesn't last long so process it in smaller jars if you don't think you'll use a full jar within about a week.
Corn & Cherry Tomato Salsa
5 pounds cherry tomatoes*, roughly chopped
2 cups corn kernels* (about 2 large ears fresh, frozen thawed is fine)
1 cup red onion*, finely chopped
2 teaspoons salt
½ cup fresh lime juice (about 3 large or 4 medium limes)
2 hot peppers*, seeded and minced
1 teaspoon chipotle chili powder, optional
½ cup chopped fresh cilantro*
6 (16-ounce) pint preserving jars with lids and bands
    -
Prepare the boiling water canner. Heat the jars in simmering water until they're ready for use. Do not boil. Wash the lids in warm soapy water & set them aside with the bands.
Bring all the ingredients to a boil in a large stainless-steel or enameled saucepan. Reduce the heat & simmer for 5 to 10 minutes, stirring occasionally.
Ladle the hot salsa into a hot jar, leaving ½" headspace. Remove air bubbles. Wipe the jar rim clean, center the lid on the jar & apply the band to fingertip-tight. Repeat until all the jars are filled. Place jars in the boiling water canner. 
Process jars for 15 min (at low altitude). Turn off the heat; remove the lid, and let the jars stand for 5 minutes. Remove the jars and let them cool.
cookieandkate.com/corn-cherry-tomato-salsa-recipe