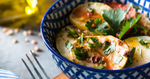 This recipe for Briam makes such great use of all the Farm Fresh veggies we have available right now - tomatoes, peppers, zucchini, potatoes, onions, and garlic. Your house will never smell better than when this is baking away!
Briam

1 pound potatoes*, peeled & sliced crossewise ¼" thick
⅔ c extra virgin olive oil, divided
6 cloves garlic*, 3 minced & 3 thinly sliced
1 ¼ t salt
1 onion*, halved & sliced thinly
1 t pepper
1 t dried oregano
1 green pepper*, cut into 2" matchsticks
2 small zucchini*, sliced crosswise ¼"  thick
3 large tomatoes*, cored & sliced ¼"  thick
¼ c chopped fresh parsley*
    -
Heat oven to 400 degrees.
Place potatoes, ⅓ c oil, minced garlic, & ½ t slt in 13x9" baking dish, mix thoroughly. Spread into even layer. Scatter half onions over potatoes. Sprinkle with ½ t each pepper & oregano.
Scatter peppers over top, followed by remaining onions, sliced garlic, 1/4t each pepper & salt, a remaining oregano. Arrange zucchini in single layer. Top with tomato slices, overlapping slightly. Pour remaining oil over tomatoes, add remaining salt & pepper.
Cover dish loosely with foil. Bake 30 min. Remove foil & bake until potatoes are cooked through and tomatoes have collapsed & are beginning to brown at edges, 40-50 min.
Let cool at least 20 min. Sprinkle with parsley & serve.
Cooks Illustrated - SEPTEMBER/OCTOBER 2021