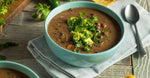 A warming soup filled with beans and spicy goodness - the perfect lunch or dinner on a chilly fall day.
Coconut Zinger Black Bean Soup
1 T coconut oil
2 t ground cumin
1 t ground coriander
¼ t cayenne pepper
2 onions, diced
½ t sea salt
5 garlic cloves, minced
1 T ginger, peeled and minced
2 large potatoes, chopped
3 C vegetable broth
1 can coconut milk
3 C black beans, cooked, drained & rinsed
2-3 T lime juice
2 handfuls fresh cilantro, chopped
Olive oil
    -
Melt coconut oil in a large stockpot. Add cumin, coriander & cayenne,cook 2 mins. Add onions & salt, stir to coat. Cook 5-7 min. 
Add garlic & ginger, cook for 2 more mins. Add sweet potatoes, broth & coconut milk.


Cover pot & bring to a boil, reduce heat to low & simmer until potatoes are tender, 10-15 mins. Add half the black beans & simmer until warmed through.


Transfer about half the soup to blender & puree until smooth. Add lime juice. Pour blended soup back into the pot & add remaining whole black beans. Season with salt & serve with chopped cilantro & drizzle of olive oil. 
Sarah Britton - Naturally Nourished