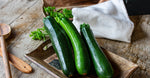 This loaf is moist & bouncy, sweet yet savory, & perfect for a cute picnic or mid-day snack.  The miso adds a umami/savoriness to the loaf - give it a try!
Miso Brown Butter Zucchini Bread

12-ounce zucchini (pre-squeeze)
1 3/4c all-purpose flour
1 t baking powder
1/2 ts baking soda
1 t cinnamon
1/2 t cardamom
1/2 t nutmeg
1/2c brown sugar
1/2c white sugar
2 eggs
1/2 c olive oil
1/4 c yogurt
1/4 c salted butter
1 T miso

In a saucepot, heat butter over medium-low heat until melted. Stir & cook butter until slightly golden & milk solids begin to brown. Whisk in miso until incorporated. Remove from heat & set aside.
In a big bowl, whisk together flour, baking soda/powder & spices until combined. Set aside.
Shred zucchini, skin included. Using a cheesecloth or thin kitchen towel, wring out as much moisture as possible. In medium bowl mix together eggs, olive oil, white & brown sugar, yogurt & miso-brown butter until combined, about 2 mins. Stir in shredded zucchini.

Pour wet batter into dry. Using a spatula, fold  ingredients together until just combined. Grease a 9x3 loaf pan with butter & line with parchment paper. Pour batter into pan & bake  at 350F on center rack of oven for 60-70 mins or until a toothpick comes out clean when inserted in the center. Cover the loaf with aluminum foil 25 minutes in.
Nasim Lahbichi

  -

www.instagram.com/reel/CrLlPA9uDM8/?igshid=YmMyMTA2M2Y%3D