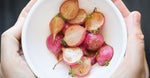 If you think that radishes aren't for you we encourage you to try this recipe. Roasting the radishes makes the flavour much more mild and work perfectly as a stand in for roast potatoes.
Roasted Mixed Radishes
1 bunch radishes
1 bunch sugardrop turnips
1 bunch green onions
3 T olive oil
1 t salt
Preheat oven to 425F
Remove greens, wash everything well, cut all radishes into wedges & slice the green onions into 2" lengths.
In large bowl toss vegetables with 2 tbsp of olive oil & 1/2 tsp of salt. Pour the vegetables into the roasting pan, arranging them so most have a flat side down in the pan.
Roast for 15 minutes, stirring & turning the vegetables after 7 minutes.
Dry the washed greens & roughly chop into bite-sized pieces, toss them in the large bowl with the rest of the olive oil & the salt.
Push the vegetables to one side of the roasting pan & add the radish & turnip greens before returning the pan to the oven. Roast for 5 minutes more
www.justalittlebitofbacon.com/roasted-hakurei-turnips-radishes