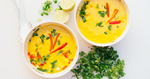 As the weather starts to cool our minds turn from Farm Fresh salads to Farm Fresh soup! This coconut curry soup recipe is filled with veggie goodness and is sure to warm you up on a cold autumn day!
Coconut Curry Soup
1 T Olive oil
1 Large onion*, diced
2 Red peppers*, diced
4 Cloves of garlic*, minced
14 oz diced tomatoes*
14 oz chickpeas, drained and rinsed
4 c Chicken stock
2 14 oz cans full fat coconut milk
2 T Red curry paste
2 t Fish sauce
Juice of one lime
1.5 lb Chicken breasts, sliced thin
2 c Roughly chopped kale*, spinach or chard
Salt to taste
Fresh cilantro* for serving
    -
Sauté onions & peppers in olive oil over medium heat until onions are just tender. Add garlic, cook 2 min. Add tomatoes, curry paste, chicken stock & chickpeas, bring to rapid simmer. Stir until paste is dissolved. Add coconut milk, fish sauce & lime juice, bring back to a simmer and allow to cook for 10 min.
Add chicken & cook 10 min until chicken is cooked through. Season with salt & add kale/spinach. Cook for 3 more min & serve topped with fresh cilantro.
themodernproper.com/coconut-curry-soup-with-chicken-chickpeas-and-hearty-greens