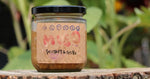 This recipe comes directly from Etsuko Inoue, the maker behind Kamosu Miso, the local miso paste we carry in the Farm Store.
Miso paste is a mixture of fermented beans, rice and can be made with several other grains such as barley, millet, quinoa and buckwheat. It is a healthy probiotic food that helps support digestion by adding beneficial microorganisms to your digestive tract. It's a versatile seasoning, that easily adds a depth of flavour to any dish.

Miso Vinaigrette
¼ c Vinegar (Rice or Apple cider)
1T Miso paste* (rice & chickpea, Shiitake and Gobo)
½ Clove garlic* (Minced)
1t Maple syrup*
3/4 c Olive oil
Optional Fresh herbs (Dill, Parsley or Basil)*

    -

In a blender, combine and blend all the ingredients except the olive oil.
Slowly add the olive oil.
www.aginggracefullyottawa.com/post/2019/02/22/healthy-and-versatile-seasoning-miso