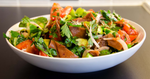 Fresh veggies, tasty dressing, and crunchy pita chips - this Fattoush Salad has it all!
Fattoush Salad
1 large head romaine lettuce*, chopped
1 large tomato*, diced
2-3 Lebanese cucumbers*, quartered
½ large green pepper*, chopped
5 radishes*, diced
2 green onions*, chopped
¼ c fresh chopped parsley*
Dressing

3 T olive oil
2 T lemon juice*
2 garlic cloves*, pressed or grated
1 t sumac
1 t pomegranate molasses
½ t dried mint
Salt & pepper to taste
Fried Pita Bread

1 large double ply pita bread cut into triangles
3 T olive oil
Salt & pepper to taste
    -
Make Dressing: Whisk together lemon juice, garlic, sumac, pomegranate molasses, dried mint, salt & pepper. Slowly stream in olive oil, whisking continuously until emulsified. Season to taste with salt and pepper. Set aside.
Fry Pita Bread: In large skillet, heat olive oil on medium heat. Add pita bread & season with salt & pepper. Cook, stirring frequently until crispy & golden, about 5-7 min. Set aside.
Assemble Salad:
Place lettuce, tomatoes, cucumbers, green peppers, radishes, green onions & parsley in a large serving bowl. Pour the dressing on top & toss. Add the fried pita bread immediately before serving & gently toss again.
feelgoodfoodie.net/recipe/lebanese-fattoush-salad