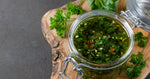 Chimichurri sauce is a traditional Argentinian condiment that is often served with grilled meat. While it is great served this way, it's very versatile. Use it as a dressing on salad, as a spread on wraps or sandwiches, or as a topping to grilled vegetables.
Chimichurri Sauce
½ c parsley*, finely chopped
2 T fresh oregano, finely chopped
4 garlic cloves, crushed
½ c green onions*, finely diced or minced
1 small red chili pepper, seeds removed and finely diced (replace with 1-2 t pepper flakes or paprika for less spice
2 T red wine vinegar
1 T fresh lemon juice
½ c oil
Salt & pepper to taste
Additional herbs based on your taste: thyme, basil, cilantro, etc

    -

Combine all the ingredients together in a medium sized bowl and mix well.
The chimichurri can be made ahead of time, but should be kept refrigerated and is best if used within 24-48 hours.
Tip - don't be tempted to throw everything in the food processor - this sauce should be a bit chunky, not pureed baby food!
www.laylita.com/recipes/traditional-chimichurri-sauce