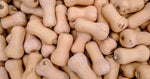 Cool weather calls for hearty stews that bubble away on the stove for hours. This Butternut Squash Stew with Pork and Spimach is just such a recipe, and is full of Farm Fresh goodness to warm you from the inside out.
Butternut Stew with Pork & Spinach
1lb ground pork
1 medium yellow onion*, diced
4 cloves garlic*, minced
1 t minced fresh ginger
½ t each red pepper flakes, smoked paprika, ground cumin, ground cinnamon & ground white pepper
1 t ground fennel
⅛ t ground cloves
¼ t salt
1 medium butternut squash*, peeled, seeded, cut into 1 ½" cubes
14 ½ ounce can diced tomatoes
1 quart chicken stock
2 heaping T tomato paste
1 bag fresh spinach*
3 T each fresh mint, cilantro* & basil, for garnish
    -
In large pot over medium heat brown meat, breaking into small pieces. Drain fat.
Add onion, garlic, ginger, spices & salt - cook for about 10 min, until the onion is soft.
Add the squash, tomatoes, chicken stock & tomato paste - simmer uncovered for about 1 hour over low heat.
Remove from heat and add spinach. Serve as soon as spinach is wilted, topped with herbs.
The Homegrown Paleo Cookbook