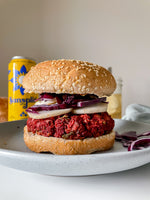 These beet white bean veggie burgers from Up Beet Kitchen are vibrant and healthy, not to mention tasty! Top with quick-pickled sugar drop radishes for a pop of crunch and tangy flavour.
Beet White Bean Veggie Burgers with Quick-Pickled Sugar Drop Radishes
Beet White Bean Burgers
1 ½ cups cooked white beans (navy, great northern, or cannellini- or 1 14-oz can, drained and rinsed)

2 small beets*, peeled and roughly chopped

1 large egg*, beaten

2 cloves garlic*, minced

¼ cup fresh parsley* or dill, finely chopped

¾ cup oat flour 

1 teaspoon paprika

1 teaspoon smoked paprika 

¼ teaspoon hot red pepper flakes

½ teaspoon sea salt

Freshly ground black pepper, to taste

1 tablespoon extra-virgin olive oil 

1 tablespoon balsamic vinegar*

1 tablespoon whole grain mustard
Quick-Pickled Sugar Drop Radishes
6 sugar drop radishes*, thinly sliced 

½ cup apple cider vinegar

½ cup water

1 teaspoon sea salt

1 teaspoon sugar or maple syrup*
Instructions:

Preheat the oven to 375 F and line a large, rimmed baking sheet with parchment paper. 

In a food processor fitted with the 'S' blade, pulse the beans several times until broken down and crumbly. Transfer into a large bowl. 

Place the chopped beets in the food processor and pulse several times, until very finely chopped. Transfer into the bowl with the beans. 

Add the egg, garlic, parsley or dill, oat flour, paprika, smoked paprika, hot red pepper flakes, salt, pepper, olive oil, balsamic vinegar, and whole grain mustard. Stir to combine. Set aside for 10 minutes to thicken up. 

Meanwhile, place the sliced radishes in a 16-oz mason jar. In a small saucepan, combine the apple cider vinegar, water, salt, and sugar. Bring to a boil, then remove from the heat and pour over the radishes. Set aside for 30 minutes before enjoying. 

Form the burger mixture into 5-6 patties and place on the prepared baking sheet. Bake for 35-40 minutes, until firm and crispy around the edges. In the last few minutes of baking, top with cheese, if desired, and continue baking until the cheese has melted. 

Enjoy the burgers on buns with the quick-pickled radishes, shredded cabbage, and your favourite condiments.