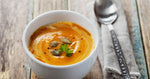 This dairy free soup is packed with protein thanks to the cahsews, which also lend a creamy texture to this warming soup.
Carrot Apple & Fennel Soup
1/2 c cashews, soaked overnight
1 T olive oil
1 large fennel bulb
1 1/2 pounds carrots, peeled and sliced
1 apple large, peeled and chopped
5-6 c vegetable stock
2 T ginger freshly grated
1 T lemon juice
sea salt and black pepper to taste
Soak cashews in water overnight & drain to use. If you don't have time for this step, you can pour boiling water over the cashews and let soak for 1 hour.

Add olive oil to a soup pot & heat over medium high heat. Chop fennel bulb roughly, saute until it is lightly browned (~5-7 min).

Meanwhile, chop apples & carrots. Once fennel is softened, add apples & carrots, followed by water and stock. Bring to boil, then reduce heat to medium & simmer until carrots and apples are softened, ~20 minutes.

Add soup mixture & drained cashews to blender, blend until very smooth.

Return soup to pot, add grated ginger & lemon juice. Season with salt & black pepper.