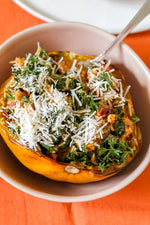 Roasted spaghetti squash is tossed with a creamy, garlicky tomato sauce infused with vodka and oregano in this warming autumn dish. Allison from Up Beet kitchen has done it again!

Don't have spaghetti squash? Add any roasted squash to the sauce and serve over pasta.
Serves 2 as a main, 4 as a side.
Ingredients:
1 medium spaghetti squash*, stem removed, sliced in half lengthwise, seeds scooped out
Extra-virgin olive oil, for brushing
Pinch of sea salt and freshly ground black pepper
Sauce:

2 tablespoons salted butter
4 garlic cloves*, minced
2 tablespoons tomato paste
¼ cup vodka
½ cup heavy cream
½ cup whole milk
Sea salt and freshly ground black pepper, to taste
1 teaspoon dried oregano
1 teaspoon dried basil
½ teaspoon hot red pepper flakes
1/3 cup grated pecorino or parmesan cheese
3 cups finely chopped kale*
2 tablespoons oil-packed sun-dried tomatoes, finely chopped
Fresh parsley, for garnish
Instructions:

Preheat the oven to 425 F. Place the spaghetti squash, cut side facing up, on a baking sheet. Lightly brush with olive oil and sprinkle with salt and pepper. Bake for 35 minutes, or until tender. Use a fork to shred the squash into spaghetti-like strands. 

Meanwhile, make the sauce: Warm the butter in a large skillet over medium heat. Add the garlic and cook until lightly browned and fragrant, five minutes. Add the tomato paste, vodka, cream, milk, and salt and pepper to taste, oregano, basil, and hot red pepper flakes. Simmer, stirring occasionally, for ten minutes. 

Mix in the cheese, kale, and sun-dried tomatoes. Continue cooking until the kale is bright green. Stir the spaghetti squash into the alla vodka sauce, reserving the squash skins for serving.

Serve as is, or transfer it into the squash skins for a pretty presentation. Top with chopped parsley. Enjoy immediately!