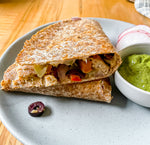 These healthy chicken quesadillas are packed with garlic, fennel, and peppers, as well as cheese, hummus, olives, and chopped cooked chicken breast. This is a healthy lunch or dinner that the whole family will love. To make vegetarian or vegan, swap out the chicken for cooked beans or lentils, and use plant-based cheese if needed.


Chicken, Fennel, Red Pepper and Hummus Quesadillas
Serves 4
2 T extra virgin olive oil
2 fennel bulbs, ends trimmed, finely chopped
2 bell peppers, seeded and diced
3 medium garlic cloves, minced
Fresh or dried herbs, to taste (I used oregano and rosemary)
Sea salt and freshly ground black pepper, to taste
½ C hummus
2 C chopped cooked chicken
1 C grated mozzarella cheese
½ C pitted Kalamata olives, chopped
4 large tortillas

For serving: Pinch of Yum's Magic Green Sauce
---
Warm the oil in a large skillet (I recommend cast iron) over medium heat. Add the
fennel, peppers, and garlic. Cook, stirring occasionally, until tender and fragrant, about 10 minutes. Add herbs, salt, and pepper. Remove from the skillet and set aside. (You'll use this skillet to cook the quesadillas in.)

Assemble the quesadillas: Spread 2 tablespoons of the hummus over half of one tortilla. Top with ½ cup of the cooked chicken, ½ cup of the cooked vegetables, 2 tablespoons of the olives, and ¼ cup of the cheese. Fold over.
Warm about 1 teaspoon of oil in a skillet over medium heat. Add the quesadilla and
cook for about two minutes per side, until browned and the cheese has melted.
Repeat with the remaining tortillas and fillings. Serve quesadillas with the Magic Green Sauce (recipe linked above).
Note: Store leftover fennel and peppers in a container in the fridge and use in Buddha bowls or pasta dishes in the coming days.
Enjoy!
---
This recipe was developed for us by Up Beet Kitchen