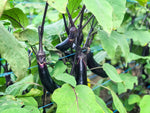 Vegan bacon? What?! It's true! We love regular bacon (Farmer Jo is of the opinion that the addition of bacon makes everything better), but this eggplant bacon is a nice, light version that is just as versatile as the traditional version. Make it the "B" in a class BLT sandwich, have it on the side of your scrambed egg breakfast, or crumble some on top of any dish that could use a little smoky goodness.
Vegan Eggplant Bacon
1 medium eggplant
1 T olive oil
1 T maple syrup
2 T soy sauce or coconut aminos, tamari
¼ t liquid smoke
1 t white miso
½ t smoked paprika
½ t garlic powder
¼ t onion powder
Black pepper to taste
---
In a small bowl, combine olive oil, maple syrup, aminos, smoked paprika, garlic powder and onion powder. Mix well with a whisk making sure the miso dissolves.
Cut the eggplant in half and then in half again. Place the flat surface on the cutting board and cut ⅛" thick slices of eggplant. Continue cutting until you finish cutting all the eggplant into slices.
When all the slices are complete, lay the strips on a baking tray lined with parchment paper or lightly sprayed with cooking spray.
Use a pastry brush to brush the top of the eggplant with the marinade.
Sprinkle freshly ground pepper over the top of the eggplant slices after marinade is applied.
Place the eggplant in the preheated oven and cook for 25-30 minutes. After the eggplant cooks for 10 minutes, flip the strips over and brush the remaining marinade over the side now facing up.
In the last 10 minutes of cooking, turn the strips over every five minutes. This movement will help produce a crispier final product.


Farm Fresh Tips: Jolianne recommends using asian eggplant for this recipe (the long, thin ones) as the flesh dries out better, rather than going soft like Italian eggplant tends to do. Can't eat all your eggplant bacon in one go (I dare you not to!), it freezes well.