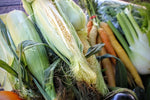 Corn ribs? Yup, you read that right! When prepared in this manner corn makes a pretty delicious vegan stand-in for regaular BBQ ribs. Who knew?!
Corn 'Ribs'
2 corn on cob
1 T olive oil or another oil, like avocado oil
½ t salt
½ t garlic powder
½ t paprika smoked
¼ t pepper
¼ t onion powder (optional)
---

Chop the corn on the cob into 'riblets' - You want to keep a bit of the inner cob attached to the corn kernels. Think of it like the bone in a rib. There are various methods for this but the easiest way is to chop the cob in half horizontally, then stand one half on its end and chop through the inner cob vertically. Then chop those halves into quarters.
Prepare the seasoning by combining all of the spices and oil in a small bowl and mixing well, then brush the seasoning over the chopped corn.
Lay the seasoned corn on a parchment-lined baking tray and bake in a preheated oven at 375ºF/190ºC for between 25-30 minutes.
As the sweetcorn cooks, prepare the chili mayo and garnishes. Once baked, top and serve!