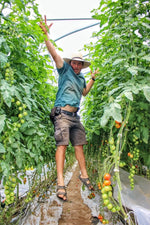 On his travels around the city, and in discussions with all of the enthusiastic gardeners that came to the Farm last summer, Jonathan discovered that there are a number of garden supplies that are incredibly difficult to find in your average garden centre. So what did we do? We brought them in ourselves! We're now your one-stop-shop for all things organic gardening.

Frost protection, insect netting, and high quality organic soils, compost, and fertilisers are now all available in the online store. All are products we personally use at the Farm and are approved for use in organic farming.
Click here to browse all of our organic gardening supplies!