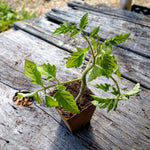 The day has come, the greenhouse heat has been fired up and the tomatoes have taken the big trip from the basement to their sunny new home.
 
They will hang out here in their pots for a few more weeks before being moved to their final destination in the soil. The incredibly early start that these plants have gotten means that we will be harvesting tomatoes from the greenhouse in May. Yes, you read that right, IN MAY! Spring BLT sandwich anyone?!

 
Now that the greenhouse is heating up and the spring sun is getting higher in the sky, we are turning our attention more and more to the task of seed starting, which includes the vegetables, flowers, and herbs we're growing for you!
 
All of the plants that you'll find in our Seedling Pre-Sale are grown right here on the Farm, alongside the plants that are destined for our fields. They are tended with the same care, thought, and expertise that we put into the Farm crops, so we can guarantee that you're not going to find better quality seedlings anywhere else in the city.

 
Have you ever thought about where the seedlings you see in your local big-box garden centre actually come from?
 
Just like the plastic boxes of salad greens that you find in the grocery store, they can come from thousands of miles away, and even if they are organically grown, they are unlikely to be varieties that are tried and tested in our specific growing conditions. Starting your garden out with the best plants possible will significantly increase your chances of success, and we know that our veg plants are the best!
 
Make sure to get your orders in before April 1st using the code SEEDLINGS10 to save 10% on all of the seedlings!