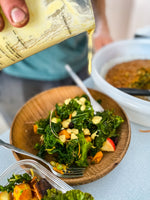 We promise that with an Ottawa Farm Fresh CSA you will never have to worry what dinner is going to be ever again.
We know that you are busy and that planning nourishing and delicious meals day after day, and week after week, can become overwhelming. Let us shoulder this task along with you, and help you learn to love cooking again.


When your fridge is filled with beautiful, fresh ingredients deciding what to eat becomes a no brainer.


Once you taste the difference locally grown, organic vegetables make, you'll never go back to grocery store vegetables!


We know that cooking from scratch isn't a skill that everyone has, but we can teach you. You'll find hundreds of recipes on our website, and we already have 200 more ready for the upcoming season. We also stock everything you'll need for the recipes in the Farm Store. Combine this with cooking videos and helpful Farm Store staff, you will never have to wonder what to make for dinner again!